Atlanta Airport Terminal Map – ATL Airport Map
Welcome to our guide to the Atlanta Airport Terminal Map. We understand that navigating large airports can be overwhelming, especially if you're unfamiliar with the layout. That's why we've created this comprehensive guide to help you navigate Hartsfield-Jackson Atlanta International Airport, one of the busiest airports in the world.
Hartsfield-Jackson Atlanta Airport, often referred to simply as Atlanta Airport, has two main terminals: the Domestic Terminal and the International Terminal. Each terminal serves different airlines and offers various amenities. To ensure a seamless journey, it's essential to know which terminal you need to go to before arriving at the airport. Our terminal map will assist you in locating each terminal and the services available within them. In addition to the terminals, the airport features multiple concourses that connect to these terminals. Each concourse houses various gates for different airlines.
Let's start with an overview of the entire airport. The below airport map provides you with a bird's-eye view of the entire airport layout, showing the locations of the Domestic Terminal, the International Terminal, and the various concourses. Use this map to get a sense of the airport's overall layout and the relative positions of the terminals and concourses.

Next, we have the Domestic Terminal map, which includes the North Terminal and the South Terminal. These terminals cater to domestic flights and house a wide range of facilities and services for travelers. The map highlights ticketing counters, security checkpoints, baggage claim areas, and a plethora of shops and restaurants. Familiarize yourself with this map before arriving at the airport to streamline your domestic travel experience.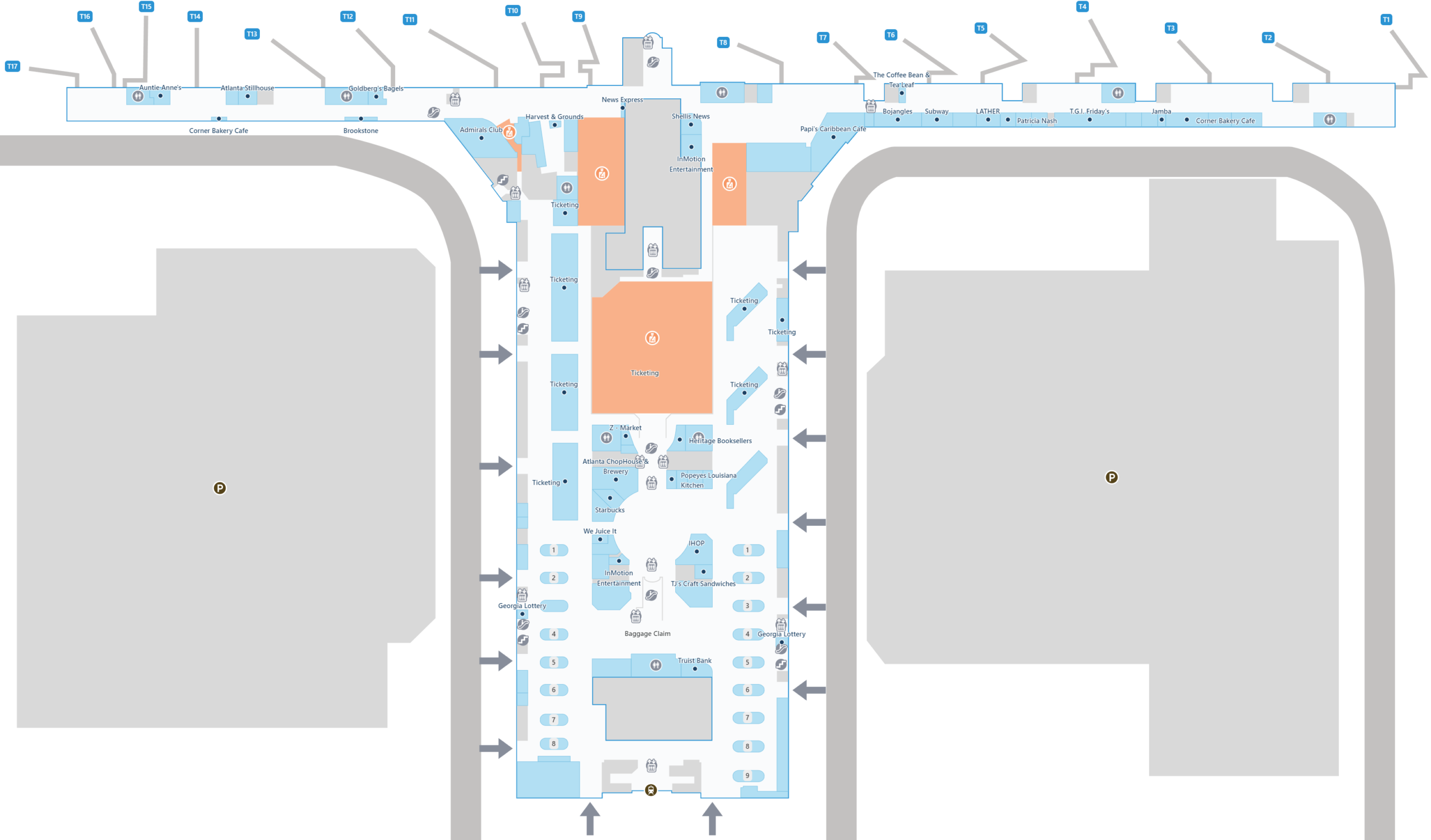 For international travelers, we've created a dedicated International Terminal map. This terminal serves all international flights and offers customs and immigration facilities. In addition to the necessary travel services, the International Terminal boasts duty-free shops, international lounges, and various amenities to make your journey comfortable and enjoyable.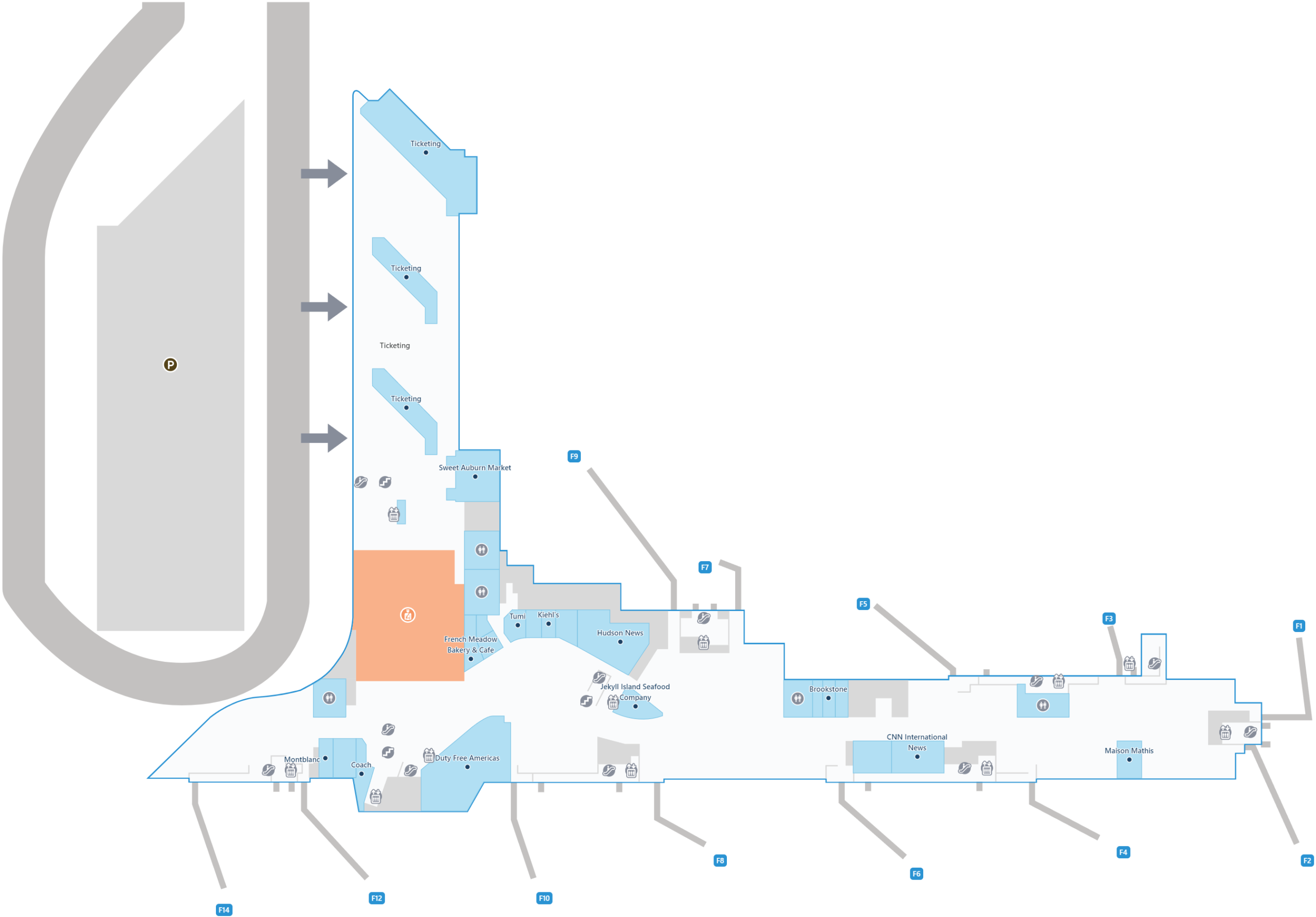 Now, let's delve into the individual concourse maps. Concourse A is one of the primary concourses and is connected to the Domestic Terminal. This map showcases the layout of Concourse A, including the location of gates, restaurants, shops, lounges, and other key features. If your flight departs from Concourse A, this map will guide you through the concourse with ease.

Moving on to Concourse B, another major concourse. Whether you're departing, arriving, or have a layover, this map will help you find your way around Concourse B efficiently. Explore the amenities available, such as dining options, retail stores, and more.

Atlanta Airport Concourse C offers a variety of services and is a vital part of the airport experience. This map allows you to identify gate locations, restrooms, and dining options within Concourse C. Use it to make the most of your time in this concourse.

Next up is Concourse D, another essential area of the airport. With this map, you can locate the gates for your flight, discover dining choices, and find other conveniences within Concourse D.

Finally, we have Concourse E, which is dedicated to international flights and is connected to the International Terminal. Use this map to navigate Concourse E, find your gate, and enjoy the amenities offered to travelers.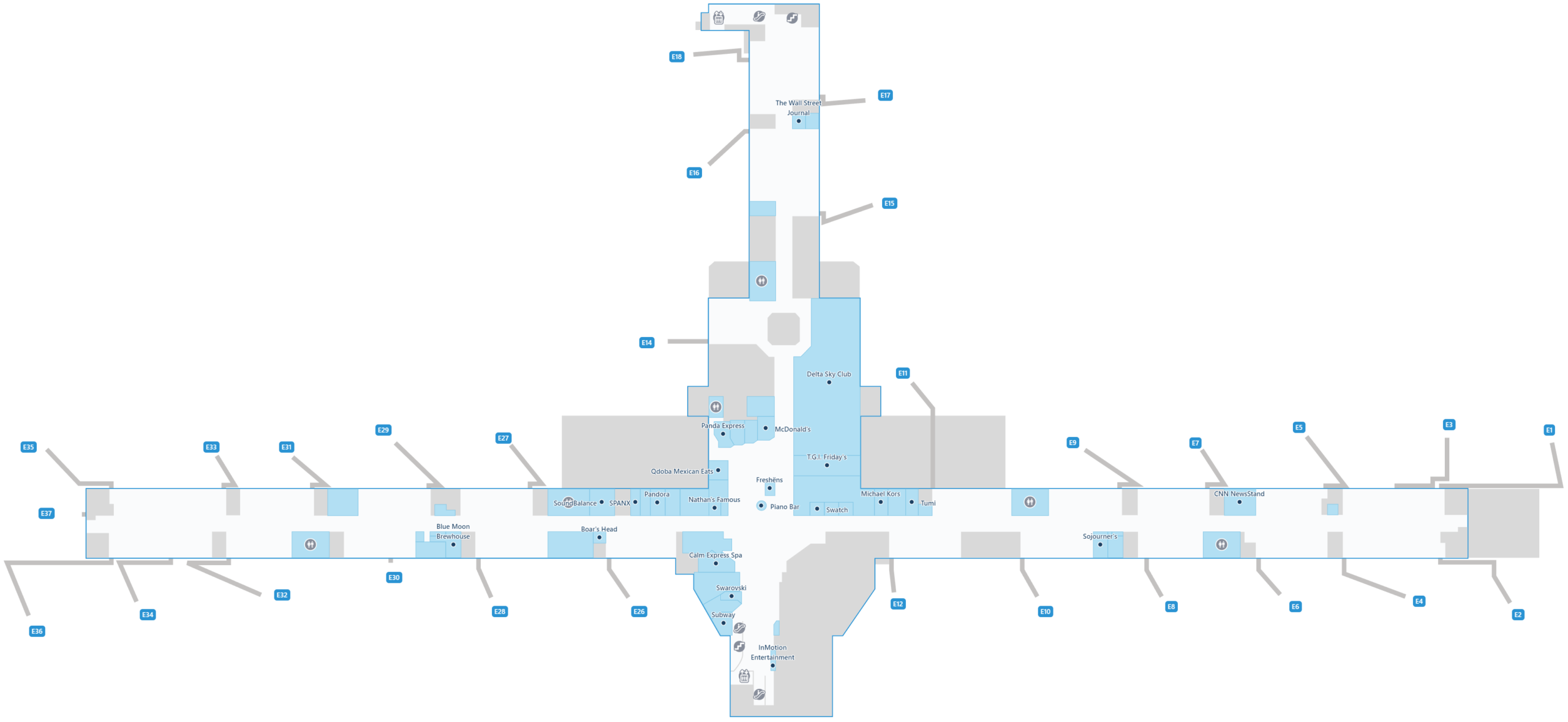 We hope that this comprehensive guide, along with the individual maps, will empower you to navigate Hartsfield-Jackson Atlanta International Airport with confidence and ease. Safe travels, and if you have any questions or need further assistance, don't hesitate to reach out to us. We're here to ensure that your journey through Atlanta Airport is a smooth and pleasant one!